Thom
If I had tons of money, I would only wear Thom Browne. Well, Thom Browne and Armani. Well, Thom Browne and Armani and Dsquared2. Oh, and Balenciaga. And Yohji Yamamoto. Oh, you get the idea. I'm your garden variety gay boy who really likes to look at things he will never wear but that look really, really pretty.
The thing is, with fashion I really like looking at what designers are doing because I take it as performance art. Very few people would be able to actually wear what we see on runways to go to your local Trader Joe's. There is no way I would wear Moschino to go work. Can you imagine brushing off that mustard stain from your $200 t-shirt? I'd have an embolism. I could not even get my hands in the capsule Jeremy Scott designed for H&M, for Pete's sake.
So yeah. Fashion. I really can't follow it. One, I'm on a budget. Two, I would feel absolutely guilty paying all that money for something as ephemeral as a look. I do appreciate fashion, though. I understand the insane amount of work that goes on a collection and I recognize the incredible talent of all those people I have mentioned. I also like that many of them basically squash notions of what's masculine and feminine and go against gender norms by having male and female models wear things that are not usually considered 'appropriate' for their gender. So there's that.
Hence my choosing Thom Browne to head this post. I think he's a genius with the measuring tape. His tailoring is absolutely impeccable and his designs are stunning but not even I could get away with wearing the dress that's made of several jackets. But that's not the point. The point is the craftsmanship, the vision, the detail. Those pants the fashionable gays are wearing right now that are cut high above the heel? The shoes all the 'with it' queens will be rocking in Provincetown this year? Thom showed them eight, ten years ago and people rolled their eyes. His tiny jackets? You could not go to a TopMan, H&M or Zara without being struck on the face by one of those last year (love those!). And so on and so forth. Even the most pedestrian detail in our most off-the-rack garments has some influence from these pretty videos and those photos we see in magazines.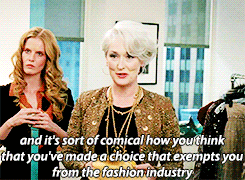 Some part of me kind of would love to reject the notion that I'm ruled by the fashion overlords, but I have to accept that even the slightest choice I make at my local Zara sale is dictated by the designs they put out in Milano and Paris and that I watch every year. Even that cute Target button down that I got for $10 (on sale from $30.99) is following some kind of direction set by Versace two years ago. I would love to live on sale items and thrift store findings like I did when I was in college, trust me. But even I had to grow up. Damnit!
I still don't dress the part that has been dictated to me by corporate America, though. Nope. I stubbornly refuse to do it. It's costed me sweat and tears and one or two trips to the tailor, but I have done it. I have always been fiercely individualistic and it pains me to conform. I have managed to subvert some of the rules in some subtle ways: a color here, a cut there, a gender fuck detail over there. And I know some people get it. Most people just think I'm slightly eccentric. And I don't give a fuck, of course.
So I'm going to go back to watching what the designers are dreaming up for next fall, even though spring has not even started. But that's the way things go. I still enjoy the pretty garments. And I like the showmanship and how the runway is more and more diverse, even though the men are still size 28 and six feet tall. Oh well. Not like I can afford those pretty Prada trousers, anyway.
xoxo
P.S. if you REALLY want know what I would wear in my dreams, check out this rockin' Neil Barrett show.