Hello, uglies...
I am a Drag Race fan. I have been from the beginning of the series. I have watched every season as it aired and now I catch glimpses of the UK and Thailand versions. I like drag. I think it was about time people would stop and notice the amount of effort and talent that takes to be a good drag queen.
Now, there's Drag Race and there's
Dragula
, a drag contest that appeared in my radar a few years back and has managed to make it to Netflix. I just binged on the third season. And it was totally worth it!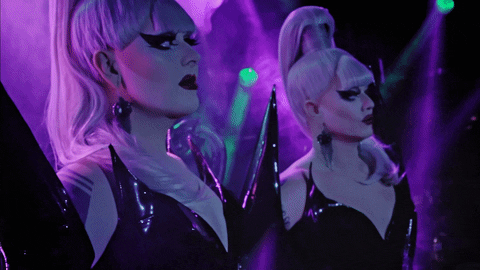 At the beginning, Dragula for me kind of filled the space between seasons of RPDR but it quickly became a more required viewing. You see, RPDR deals with a different kind of drag, IMHO. Yes, it has given us
Sharon Needles
and
Sasha Velour
and
Bob The Drag Queen
, to name a few of the more outstanding alumni of RPDR but once I watched Dragula, I knew the more punk rock vision the Boulet Brothers have of drag was my cup of tea.
Now, I'm not a connoisseur of drag like
Mistress Maddie
, but when I see something I like, I have to talk about it. Dragula is quirky, twisted and very, very creative. One of the premises is the elimination: the contestants are asked to basically get over their fears. And sometimes that includes things like letting someone else choose a tattoo or jumping off a plane. And you thought that a lip-synch for their lives was thrilling.
Dragula has also had bio queens and drag kings in their ranks and the performances take most times place in elaborate fantasy settings. Really. Not to mention that the
Boulet Brothers
create a narrative within each episode that leads the runway presentations and the challenges the contestants go through. You can find some seasons on
YouTube
and some on Netflix.
I don't think Dragula is as commercial as RPDR and that's what I believe makes the series much more interesting. There is a cash price, though, but because it attracts a less pageant-friendly kind of drag, the risks the contestants take when presenting their ideas is much more entertaining (ast least in my eyes). So go ahead, while you wait for another season of Drag Race, take a chance on the Boulet Brothers and their fantastic interpretation of drag. Who knows, you may end up liking your drag a little bit more daring than you thought.
XoXo
Season Two:
Season Three: