Shut up and drive
I learned to drive out of necessity: it was during my first semester in college. I used to live on campus, so I did not really need transportation to go class. I did not live on Frat Row or anything like that, but in a college town you will always find affordable living basically walking distance from campus, so I had a comfy trek from my tiny apartment to class.
All that changed when I met someone and we decided to move in together. I lived with a guy who knew the city much better than I did (oh, you've read about him in the blog before) and he convinced met to live off-campus with him when he started having problems with his dragon landlady and I did not even think about it for two minutes before I said yes. I was dickmatized and never thought about the consequences. Yes, dear. I was not thinking at all. It happens when the dick is good.
So I found out that I needed to learn to to drive a stick-shift pronto. Because you see, my ex drove an old model that was not automatic. And I had never had a car. I was used urban life and to riding a Vespa everywhere I went and never really felt the need to actually learn how to drive a car.
So he tried to teach me. It did not go well. If you really want to keep your relationship going, please, do not teach your significant other how to drive. Find someone else to teach them. It was one of the most frustrating experiences I have ever had. He was patient, but patience does have a limit, especially when teaching someone to drive a stick-shift and discovering that he has some kind of special dyslexia that only recognizes 'left' and 'ahead' and has two right feet.
I finally learned how to drive, though. He borrowed his friend's Cherokee and I (barely) learned to parallel park and stay in my lane in a record two weeks. I devoured the pamphlet they give you at the DMV and practiced parking in an empty parking lot. But because luck is such an elusive bitch, the day I took my driver's test I did not drive that Jeep. I drove a 'new' car my ex had gotten and everything was going peachy until I was asked about the hazard lights. I froze. I did not see that one coming. And I could not find them in the dashboard of the 'new' car. So I failed my first driving test. After having passed the written part, I failed the actual driving test. Because I could not locate the hazard lights in that fucking car. I cried bitter tears on the hood of that car. I was so mad at myself I actually spat.
I waited two weeks and went back to the DMV. And I passed the goddamn driving test. Both the written part and the actual driving part. It signaled a new beginning for me. And also signaled the end of that relationship, not that I knew at the time, but the signs were all there. We were doomed, but I had learned to drive. After that, I got my first car (a Saturn with a super-cute third door!) and I was off to greener pastures. It was an experience. And even though our breakup was bitter and it took me a hot second to get over him, I am thankful he taught me how to drive. He broke my heart but he opened the door to many road trips and great getaways. There's always a silver lining, no?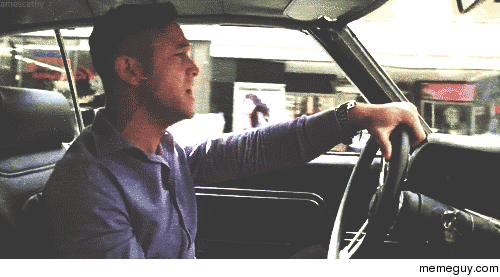 XOXO