Mr. Jones
Oh, Tom.
Well, I was bingeing on Glee over the weekend (the Blaine and Kurt romance and Kurt's dad and all that jazz) when the It's not Unusual number came up. Mesmerized. I was mesmerized. I knew I had heard the song before and down the rabbit hole on youtube I went. And I found footage of Tom Jones in his heyday performing that song. And I stayed mesmerized.
Apparently Tom Jones had a raw sexuality that transcended. As I understand it, women threw their underwear at him and I can see why. He was apparently a construction worker who raised to fame with a series of hits in the sixties. He recorded a demo of It's not Unusual and the rest is history. He cultivated an image of hypersexuality the likes of which we have not seen ever since.
But what I like is the way he moved. He KNEW he was sexy. Notice that I say sexy and not handsome. Tom Jones was not handsome in a conventional way. He was a little rough around the edges but he knew how to move his body. And those pants! Damn. It was a Tom of Finland drawing come to life. I ca imagine that more than one gay man discovered he was gay just but watching Tom move.
We seldom see that anymore in a straight performer. Straight men are terrified of being considered a sex object, especially by other men. One of the working theories is that they are afraid we are going to treat them the way they treat women. That simple. Nowadays we see actors shedding their clothes and showing off their gym cultivated physiques, but that's a controlled performance, something that is going to show their best assets in a certain way in a certain context. A singer would have to do that in public, live. No filter. Very few do that.
As gay men, we capitalize on being sexually attractive, so a gay man doing what Tom Jones did is something we don't find to be sui generis. But I have not seen that raw sexuality even in a gay bar. Even some gay men are not free enough to be able to be that... free. And he was doing all this in the sixties! Well, it was the time of sex liberation and all that, but I cannot imagine what one of his concerts would have been, him moving like that. Bet those girls would have been thinking about those hips for days.
By the end of the sixties he had been moderately tamed. The voice was there, the showmanship was there, but that raw sexuality had been subdued. He came to America, Made millions, but I imagine it was just not the same. Then he became a caricature of a sex god. Why is it so hard for men to be so openly sexual? A man like Jones would be a rarity nowadays, I guess. We are all more politically correct. We are more bland. We have to abide by some rules that do not allow us to be that openly sexual. But it would be good to see a man that free again.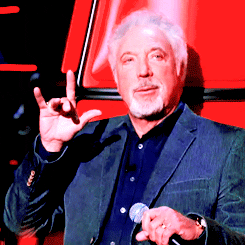 Of course, I have got to show you the PG-13 version in Glee. Child's play. But Tom's legacy lives.
XOXO