Shubh Mangal Ayada Saavdhan
You're going to have to hit the close-caption button for this one. Apparently this is going to be a big Bollywood movie and in a field as conservative as Indian cinema this is a big deal. Huge. If you are familiar with Bollywood productions, you know they're fun, they're loud and they're very heteronormative. They follow a very rigid and gendered path: boy meets girl, boy woos girl, boy marries girl. Nothing more nothing less. Just add big dance numbers and you've got a movie.
But this movie is going to shatter those boundaries. This is a gay love story and I Stan. One, I love the aunties and the outraged older men in full turban drag. I think the culture is fascinating, I love the music (even if I don't understand a word) and these movies showcase it to full effect. I also think that the men in Bollywood movies are very handsome, all tall dark and handsome. So what's not to like? I don't know if I will be able to see this movie in theaters but I hope some streaming platform gets it so I can get my Tandoori on.
When India decided to decriminalize homosexuality (those colonial laws) and then went back on it there was outrage. Now, with this film it was feared that the super conservative Censor Board (yep, there's such a thing in India) was going to be up in arms about the theme and was not going to allow any physical contact between the leads to be shown screen. Well, fear not:
Ayushmann Khurrana and his onscreen gay partner Jitendra Kumar can exhale now. Their smacking smooch in Indian cinema's first mainstream gay film Shubh Mangal Zyada Saavdhan is not only intact in the trailer, it will also go scot-free in the film itself.
Yay for progress! Damn are these men hot.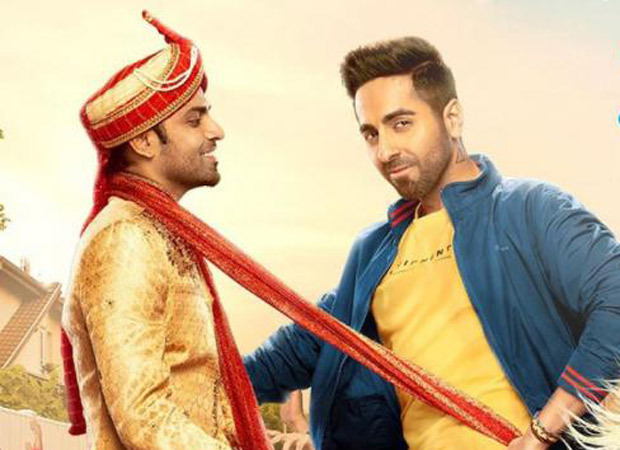 Really wanna see this. Wanna grab some popcorn?
XOXO
P.S. And talking about India, did you see IMPOTUS butchering the language? God, he is such an embarrassment. At a global scale.