Party like it's 1937?
So I went to see 'A Star is Born' with Gaga and Bradley Cooper. I have to say that I've seen the other versions so I've already seen Gaynor and March and Garland and Mason and Streisand and Kristofferson playing the archetypes Gaga and Cooper bring to life for this generation. But I liked this one much better than any of the other versions. And you have to consider that I thought the Streisand/Kristofferson vehicle was ok.
Even though this time we still get to see the progression of their stars mirroring in reverse what's going on in their careers, this time we get to see much more of what the male lead goes through than in previous versions. What March and Mason basically say through gritted teeth Cooper is able to articulate much better: he seems to be portraying a human being. Not caricatures. Cooper's Jack has more of a backstory, so his pill popping and booze swinging seem more justified. The movie touches on codependency, and drug and alcohol abuse and on family issues, as well as relationships. Maybe that's what makes it different: now we see a melodrama in which the focus is relationships and not just a portrayal of the star making machine.
This time, I also felt that even though it's still about the girl (look, she's got talent!) this time the guy is not resentful of her success. I think he sees it as a given. What he does not like, according to me, is that she gives up herself (being a singer songwriter) for being a pop star. And that he (because we know much more of the fading star this time, thanks to a more vigorous backstory) feels that she's selling herself short by not sticking to her core self.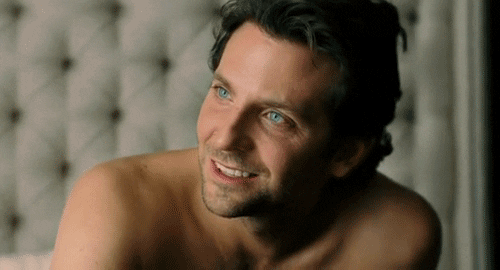 Also, hello? Bradley Cooper is an absolute pleasure to watch (the eyes! the scruff! even the long, unkept hair!). They do show more Gaga in the buff, but when they show him, it IS very nice. especially when they give him a shot in the butt. Oh, and Bradley sings. Given that he spent the movie making my hormones run amok with that gruff voice he used (on top of that his brother was payed by Sam Elliot, who's got a voice that makes my bones rumble) Cooper got to sing and he doesn't do it half bad. I read all the songs were recorded live and in concert venues like Coachella (for the authenticity) so he did a more than decent job.
In all, I think this time the story was more of a balanced deal. They both had a backstory, they are more of a three dimensional being than previously shown and even though the end was predictable (we have all those other ASIB to tell us how it all ends) the large format of the movie allowed to develop the characters a little bit more.
Cooper is more Kristofferson than Mason (I could not help thinking that whomever thought of never let Kristofferson close his shirt in that movie was brilliant) but I think Streisand was more a woman of her time than Gaga is in the movie. Even though her stardom anchors her in 2018, Gaga's progression in the film has more of the original idea of the making of a movie/pop star than the Streisand version made us see. So now I'm going to have to go watch that version, to refresh my memory.
xoxo