signed and delivered
Nyle diMarco is one of the most attractive men I have seen in my life. Really. The eyes. The jawline. The shoulders. The chest. The mouth. The legs. And he's 6'2" (DADDY!). Everything about him seems to be attractive. In this video, even his feet look good. Damn. I'd climb him like a fucking tree.
Of course Nyle's PROFESSION is to look impressively good (
ANTM
, anyone?) but I think it goes beyond that. He's a person who fights for representation. And he puts his money (shot) where that beautiful mouth is. When Ariana Grande's video for 'Thank you, Next' came out, Nyle asked Vevo to put captions on Ariana's video (and I think Ariana did the lyric video for it!). After that, he decided to go ahead and do his thing and actually do an ASL versos of 7 Rings.
Could you ask

@Vevo

to add captions for 466 million people with hearing loss

(Deaf here and we do enjoy your music) 🤟🏽

https://t.co/e0YSC0lBJg

— Nyle DiMarco (@NyleDiMarco) November 30, 2018
BOOM!
— billboard (@billboard) January 28, 2019
.... and that's how it's done. For all his beauty, Nyle comes across as down to earth and with a great attitude coupled with a fantastic disposition to not take himself too seriously. But he seems to attend to his activism with a steely determination. And I'm all for him doing it.
Representation matters, kids. And Mr. DiMarco is the perfect example that one person can make a difference. There ARE people who are differently abled. And differently bodied. And different. But they're just people who also have to see themselves represented in mainstream culture. Let's not forget that.
And now, let's objectify him.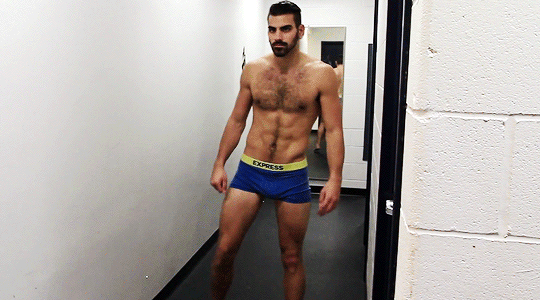 He could. Any. Fucking. Time.


Bonus:
He's smart and articulate.