we're born naked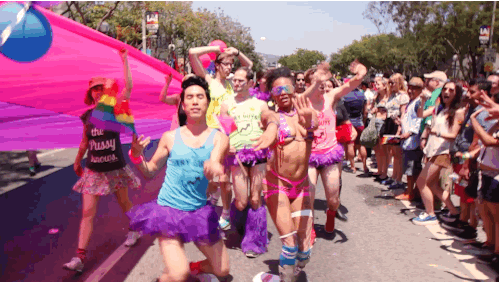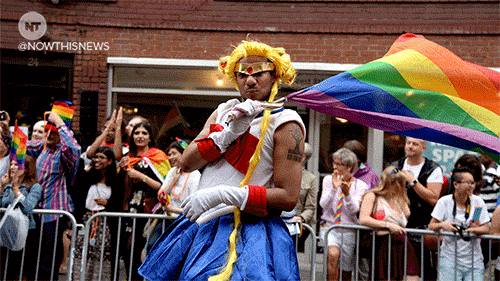 For many queer men Pride offers an occasion to dress in a more "feminine" style than they normally would. But Pride fashion also has a tendency towards hypermasculinity. Leather has been a mainstay since the 70s, not to mention constituting a rich subculture in its own right. If leather culture emerged as a response to contemporary stereotypes of heterosexual masculinity, it has become a look which signifies, above all, its own queerness.
JAMESGREIG
.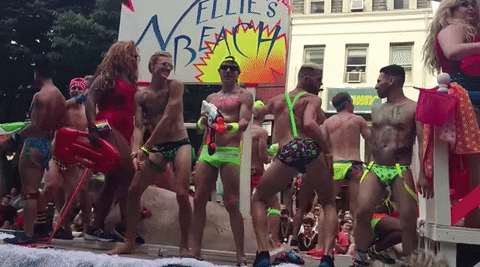 Oh, you thought because Pride is in June there's no more Pride posts here? Well, think again.
Well, that post
yesterday
certainly gave me some interesting comments. I posted it as an afterthought, almost. I had been thinking that it was awesome to see so many people letting their freak fly during pride: girls in thongs with barely-there-pasties walking around carefree, leather daddies in chaps and a hat, guys walking around in lycra shorts and prayer, the lot.
It was fantastic to see so many LGBTQ people feel safe to express themselves as they wanted, without interference from other people (including LGBTQ people). In that post yesterday, a guy harasses another guy just because of what he's wearing (to Pride, mind you) and that's a perfect example of how prescriptive society is when it comes to gender roles and gender expression.
During Pride in June we are allowed to be all rainbows and short-shorts but then we are told to get our leather gear, our lycra and our tits and shove them back into the closet. Both the normative gays (those that raise an eyebrow and say: 'too much') and society at large are really scared of any clear demonstration of individuality when when THE GAYS step out in full force. We are far from being 'mainstream'.
What Pride is, according to me, is what queer theorists and activists hope the wold to become: a safe place for everybody to express who they are (and how they love and who they fuck) without fear or aggression or ridicule. And that's what happened during Pride that made me think about posting that entry (and this one). Pride should take place all year round, because many still have to keep justifying their existence and right to express themselves on a daily basis.
One the glitter and the pride flags are safely store until next June, for many the fight continues. That's why we may have to carry that pride beyond June. That's why being subversive by wearing some Pride or Pride related gear all year round is the best way to tell the world we're not afraid of it.
Happy post-Pride Pride.
XOXO