Gentlemen, start your engines..
Ok, so looking for anonymous sex in a random parking lot is not something I've really thought about much until YouTube delivered this video to my doorstep. I've had sex with someone in his car in a parking lot, but because we both drove there to meet, not because we just happened to be in the same parking lot and decided to get it on. Sex in public places is something that many people consider thrilling and exciting but I just think it is slightly uncomfortable and awkward and I'm spoiled. So sue me. But I have to admit I was absolutely fascinated watching this video. The turns and twists! Seriously, driving to some remote parking lot (or worse, to a nearby one) looking for dick is not something that sounds extremely sexy to me, but apparently it IS a thing. Color me surprised. I thought that Grindr and Growler and all the apps had rendered this kind of thing archaic. I would have thought this was a thing in 1961, not 2021. But one learns something new every day, right?
Sex not-in-a-bed is hot, don't get me wrong. I've given head in cars and it's not too cumbersome, but it has not been in some unknown parking lot with some dude I did not know seven minutes before I went for the zipper in his pants. I would say that the idea of pulling off a successful cruising session in a parking lot was not one of the things I had in my to-do list, but there's always YouTube to lead you astray, right?
I had no idea there were things like Best Practices, What to Bring and What to Wear to get fucked in your car. The more you know...
One of the things I agree with Patrick, is that your car does offer some comfortable safety. You're literally driving your own little whorehouse: it's quiet, it's clean and it's familiar. What I never thought about was that you could bring all your little accoutrements with you (mind blown) besides your starter cables and your spare tire. As you may be able to infer, up to this moment, cruising in my car for me meant to take the scenic route to get to Lake Shore Drive. It really did not involve sexy shenanigans with a stranger in a forest preserve at any point or time.
But to tell you the truth, cruising in a parking lot kinds of scares me. Well, any kind of cruising kind of scares me but that's fodder for another post. The idea that some guy who seemed perfectly normal outside the car would be in the close confines of my car with me suddenly change his mood sends chills down my spine. I, like my car, am not very big and the thought that I may not be safe in my own car kind of terrifies me. What would I do if suddenly I decide that his vaguely dangerous dick is really not THAT interesting? How do you get rid of a guy who seems to need more an exorcism than a polite blow job and has thirty pounds and several inches on you? What if two men want to check my oil? It sounds good in porn, but in real life? Scary.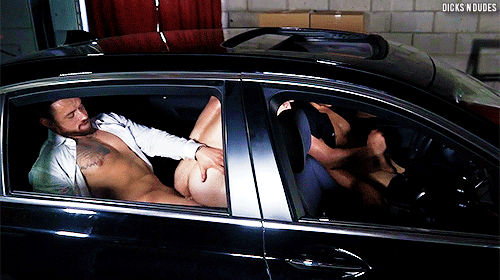 Also, the correct signaling kind of escapes me. Yes, you're in a secluded parking lot. Yes, you seem to be waiting for... dick. But isn't that awkward? The whole negotiating of sex with strangers who may or may not want to fuck you is slightly off. I remember that cruising in a bar is much more direct: you look at him, he looks at you and one of the two (or both) smile and voilà: drinks and a a convo. If he's not interested, at least you still have your dignity and your pants on. That I can do. Looking at a guy in the crotch is very direct, but what if the dude decides he is not there to fuck a friendly stranger and decides to rearrange the interior of your car with you inside? I really don't know how this works. Did you notice?
I do like the idea of having sex in or around a car. Been there, done him. It is a little contrived and somehow awkward but I can see the charm. I am not very sure I would like to just drop by a parking lot and figure out who would be in the mood to fuck me, though. It's way too much work. Not to mention that there could be psychos, repressed homosexuals looking for a victim or even worse, policemen on duty in such places? This video kind of touches on that but kind of it doesn't. Also, did you know that you do not need underwear when cruising? And that designer clothes are a no-no and that a small garbage bag is essential? I am surprised and a little confused.
What I find most awkward is the good-bye. Is this a wham-bam-thank-you-man kind of situation? I know you are not obligated to make breakfast for a hookup, but what about a man with whom you just shared your steering wheel for half an hour? Are perfunctory 'see you around' mandatory? Cruising per se (if I'm going to take cruising in a bar as a reference) is kind of a spur-of-the-moment thing and it's not supposed to lead to more lasting dalliances, so how do you deal with the good-byes? What if the man who just helped you confirm how comfortable your back seat is was the best fuck you've ever had and he will just clean up and leave? Isn't that frustrating? The intricacies of sluthood sometimes baffle me to no end.
Funny, what YouTube makes me think about. I think I may have to pass on cruising parking lots, though. Too many variables, too many things to consider and too risky, from my point of view. But if you have done it and it's worked, what's the secret? Apart from being terribly horny, I cannot see why anybody would put himself through all this work. It seems to work well in porn, though. But we all know porn is really not real, right?
XOXO
P.S. I do have to say that I am forever fascinated by
amateur porn in cars
, though. There's
this video
that has made the rounds for years that is absolutely mesmerizing. I cannot take my eyes off of it when I find him when I'm stumbling around online
looking at shit
I should not be looking at. Apparently
sex in cars
is quite common and I'm just not slutty enough.