trivago
Have you noticed those Trivago ads? The ones where a very delectable DILF tells you all about the joys of finding just the perfect hotel? You haven't? Where have you been living? Under a rock?
Well, I have noticed them. I have also noted the slight scruff, the long legs, the nice smile. The Trivago guy got me. At the beginning he was a little frumpy (which I liked, too!) and then he got more silver-foxy. The shirts were more tailored, the jeans tapered, the five o'clock shadow just so. And he was still hot, of course. I have to say that even though I do not use trivago much (I don't travel far that much!) I certainly enjoy the commercials. And today when I was on
Fleshbot
(yes, I like my porn curated) I read that he was
arrested
because he was caught sleeping behind the wheel obstructing traffic. Damn. Did not see that one coming. I hope Trivago does not boot him, because after all, we all know advertising is all about image and they won't like the association. The Trivago guy is so much fun than even
FunnyOrDie
did one on him.
I have to say, though. I still like the Trivago DILF. Fuck, even his mugshot looks kinda hot. You know me. I like the daddy type and this one is a walking testament to my taste.
Oh and apparently Trivago specializes in handsome men. I may have to change Booking for Trivago for those out-of-town moments.
Oh, and Trivago gives you hot men in many languages!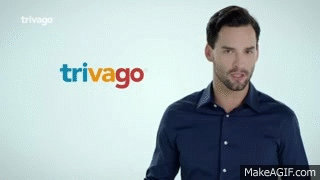 XOXO