Holmes
No one in Congress had heard of David Holmes, the U.S. Embassy official in Kyiv who provided brand new, first-hand evidence that Trump was seeking a commitment from Ukraine to investigate his political rivals. Holmes' recollections were first relayed by William Taylor, the top U.S. diplomat in Ukraine and the first witness to testify last week. Holmes was quickly deposed just two days later and on Thursday, he testified publicly.
So if you have not been living under a rock, you know the Democrats are trying to nail Cheeto for abusing power and asking a foreign government to fabricate information about one of his political rivals. Just another day in the Orange Baboon dumpster fire of corruption, Kakistocracy and ineptitude.
But because I'm tired of the fuckery that is a never ending cycle of news relating to the myriad ways Cheetolini has made the government his own private Ponzi scheme, I decided to drool over
David Holmes,
the man who along with
Fiona Hill
had to withstand the stupidity of David Nunes and Gym Jordan (typo and it fucking stays) during the hours that the impeachment inquiry took place.
I think I need a break from all the fuckery, gaslighting and stupidity that these weeks have brought. The repugs are never gonna concede that Cheeto is a cheat and a traitor and the trumpanzees don't give a shot about the corruption. I know
it's the rest of America that needs to get their shit together and DO SOMETHING.
So I decided to do this post. Because, seriously, I think Mr. Holmes is dreamy. With his short blond hair and his nice jaw and his suit, tie and overcoat seems to have stepped out of a Men At Work porn video. Well, that according to me.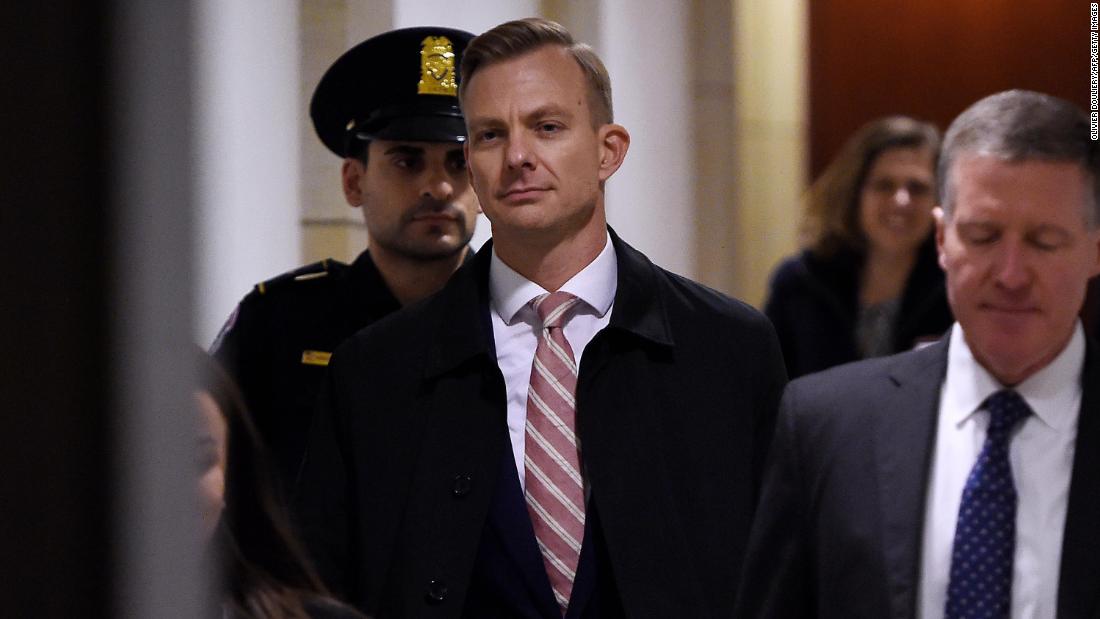 I, for one, find that tightly winded kind of personality attractive in a man. I also like his integrity and his disregard for putting party before country. I give more kudos to a man like David Holmes than to let's say, Anonymous, who wrote that book about the chaos in the White House. Because Holmes faced the music and spoke with integrity, while Anonymous still changes Cheeto's soiled Depends.
So here's for men like Holmes, who is hopefully a freak in bed. May somebody give him a great blow job with bukkake. I'd offer, you know. It's called patriotism.