Five
Now, following in the tradition of oversharing online, what if I told you five things about me that very, very, VERY few people know? After all, they say you should put it out in the universe to see what happens. Yeah, why the hell not? You have read my thoughts and opinions on most everything on earth so why not a little TMI? Are you ready? Don't say I didn't warn you....
One
I started having sex before I was fifteen years old. Yeah, I was kind of precocious. A boy much older than me popped my cherry almost as an afterthought one sunny afternoon and everything and nothing changed. I don't think either of us thought we would end up actually having sex, but indeed we did. We used to hang out together and even though I knew he was more experienced than I was, I never thought he'd be the one to pass that threshold. You see, until that moment he had been just a little more than an acquaintance and I didn't even know he liked guys.
I had fooled around with some other boys before but I had never actually had full-on sex with anybody until that day. I think I never thought much about it until it happened and then life just kept going as if nothing had occurred. At that moment, it was just another experience. After all, I knew I was gay from a very early age and besides, I never thought I'd save myself for THE ONE, either. Being a gay virgin was not something that preoccupied me at all at that point. But I still remember that day vividly. The guy never knew he was my first. He was just one more guy I slept with when I was young. I still had sex with him other times but I never brought it up. To this day, he's none the wiser about him being the first man who fucked me.
Two
I usually try to steer away from trouble but sometimes trouble has just found me. Some times during my life I've been 'the other man'. Sometimes I have found myself too enmeshed in a relationship to backtrack when I knew he was with someone else and sometimes it's been almost unavoidable to get involved with someone who already was in a relationship. Physical attraction is a hell of a drug, I tell you. Some of those men also had very complex romantic lives, that's for sure.
One thing I have noticed though, is that I have never really broken up an established relationship. Nobody has ever left somebody else for me.That has not been the objective of those relationships, I guess. The men with whom I have had relationships on the side sometimes have had open relationships or one of those 'don't ask, don't tell' arrangements. One time I was part of a throuple for a hot second, and I have been the Unicorn for whom a couple has vied, but that's been about it.
There's a terrible stigma about being 'the other man' because people stubbornly refuse to accept that sometimes we cannot give the man we love everything he needs. I think that when a monogamous relationship does not work, because of sex and they cannot solve the problem, one possible solution is to open it up if both parts agree on that. But some people just cannot bring themselves to take that road. They should read
Sex at Dawn.
Three
I cannot understand the fixation many gay men have with having sex with straight men. Sex with straight men is many times somehow boring and perfunctory at best. It can be hot if you're into the furtive, sneaky, slightly uncomfortable, uneasy quality of those sex encounters, but most times it ends up being strangely mechanic. Most straight men do not really connect to another man and the erections we get from them are well, instinctual? And I think that may be the lure of the whole thing: gay men want to have sex with self-professed straight men because it is primal. But I don't buy it.
The best sex I have had has been with gay and bisexual men. Period. And I've had sex with what would be considered very 'hot' straight men. And that's maybe because I like men who enjoy my body as much as I enjoy theirs and are able to show and receive affection from another male. I have learned that I need to be kissed and touched and manhandled a little to really get going. I mostly had sex with straight men during my teens, but I stopped around the time I turned twenty one or so. Something just clicked and I decided to avoid any situation in which 'straight' men would try to 'test the waters' with me.
All thought my adolescence I had the uncanny ability to find myself in the crosshairs of every fucking heteroflexible man in a ten mile radius. Some people would have loved it but to tell you the truth it was like having cotton candy for breakfast, lunch and dinner every week. Appetizing in theory but totally unfulfilling.Trust me, I know.
Four
I have had some very unfulfilling experiences with some men that have huge dicks and to this day, I have not been able to get over them. I know that some gay men brag about and covet a big dick but I have basically sworn them off. You see, for some time, I had a lover who had a big, beautiful dick. Porn star quality, seriously. Inches for days. And he was horny as hell, too. But he used that cock like a sledgehammer and was not creative in bed at all. He basically used to let me take care of him and then would just go to town like I was born to take the abuse. And not even in a fun way!
We broke up and some time later I got into another relationship with a guy who was not as big but was no chopped liver either. Same fucking story! Very nice dick but I was over it in not time. That basically turned me off on big dicks. Such a waste. Sometimes people joke that it's the motion of the ocean and not the size of the boat what matters, and in these cases, it was true! Those beautiful, big, ocean liners could not get to port without breaking havoc. The captains were asleep at the tiller. And they were absolutely unaware of it. There was no suggestion or direct comment that would make them stop and think about something to improve their technique. Maybe it was because they saw their endowment as a blessing that had to be dispensed special favors. I think that some men with big dicks end up thinking with their little heads and that's just a shame. Think about all the missed opportunities.
Five
I like it when men talk dirty to me. Yep, I love me a man with a potty mouth in bed. I think dirty talk is liberating and very, very hot. Many more people should be aware that being vocal during sex is an asset. And very few men think about the possible uses of expressing themselves when getting their freak on. Some men barely breathe harder even when they're coming.
I like a man who moans and groans and puffs and huffs while he fucks me. I like a man who tells me what he wants to do to me, a man who asks me if I like what he's doing to me. I think it's hot if a man then tells me that he will do to me that thing I liked when he fucks me again, even if we are in public. I really like whispered, urgent words in my ear while a man is all over me. It makes me shiver. It gets me going. It gives me the tingle to mingle. I like to hear his labored breath as he's about to come. I like a man who lets it go when climax hits him. I like to hear him when he reaches the point of no return: those deep moans/groans a man lets go when he's cumming are music to my ears. Yep. I'm that guy.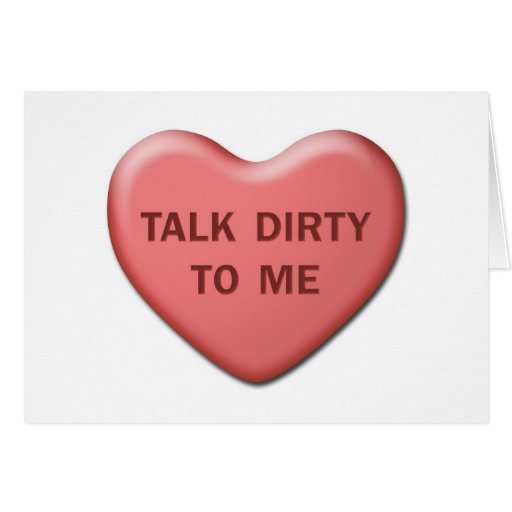 And I think that's enough oversharing for a lifetime. What, didn't you know that TMI is the bane of the internet?
Toodles!
XOXO