Oh, Mr. Tingle
CHUCKTINGLE
When I read the tweet about Chuck Tingle, I knew I had to post about it. Because why not? The Devil's Butler is one of the most irritating side effects of the COVFEFE-19 presidency. A smug, holier-than-thou, sanctimonious self-appointed guardian of all things right wing in this presidency. An avatar for everything that is wrong with the Religious Right. And a liar. He lied about equipment needed by hospitals, he lied about the traveling from China the White House 'implemented', he lied about the WHO and China telling the truth about COVID-19 and when 45 knew. He lied about the timeline of Cheeto shutting down America and when he did it and lied about the projected deaths. He lied about taking 'precautions' during their preferred Handmaiden's Tale celebration at the White House and he lied about the money the government is providing to people during the pandemic and lied about vaccines. He lied, lied and lied. He's the perfect example of Xtianist, white male privilege.
But the Devil's Butler was also outshined by a fly during the debate. It was the only moment in that debate that I did not want to scream at the screen when he was on. His constant interrupting (he interrupted Kamala and the moderator who are... surprise, women) his smarmy condescending smile, his head shaking, like tut-tuing what Kamala was saying. His relentless and uber-polite lying got to me. He proved that Talibangelists are convinced the ninth commandment does not apply to them. He's a dick. A polite, paused dick. But a dick nonetheless.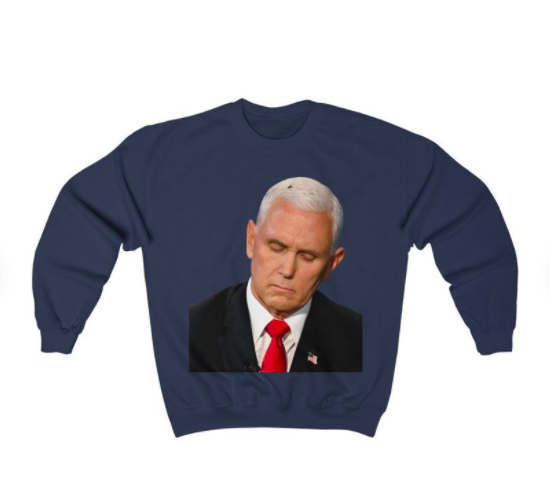 So Chuck Tingle writes slash fiction. Especially M/M and he's got his own Amazon page. And he's given some of his books online for free. And because reading is.. FUNDAMENTAL I decided to post about him today, in honor of reading and also in honor of skewing The Devil's Butler and his milquetoast approach to life, that masks an abject submission to the bully that is Hair Furor and a thirst for power that lets him lie with supercilious precision. I also think that the VP was given too much credit for the debate. After all, somebody who can lie with such aplomb and in such cold blood is even more dangerous than IMPOTUS. He's not 'polite' he's insidious. Barf.
So go ahead,
download one or three
. Even if it's just for shit and
giggles
. There's something for every taste. The ones that are not free are very cheap. You can also give a donation for a charity you find especially close to your heart. Even if it's Amazon, the author does get his share of recognition when you visit their pages or leave a review.
Enjoy! And don't forget to VOTE.
Happy reading!
XOXO